TURNKEY VIDEO STUDIO FOR
E-LEARNING WITH LIGHTBOARD
Software and hardware complex for recording video lessons, online courses, live broadcasts and webinars.

Turn-key video studio: consultation and design, installation, maintenance and training of equipment usage.

A turnkey solution for your business
Video studio with lightboard is an ideal tool for teachers, coaches and anyone who needs to create interesting and interactive learning or training videos. This allows them to illustrate complex concepts in such a way that they are clear and visually attractive.
In addition, the presenter can control the pace and time of the presentation, stop and rewind as necessary, making it easier for viewers to follow. And thanks to the software, time for video editing is significantly reduced.
​
When you order turnkey video studios you get full assembly, installation, technical support and equipment operation learning for your convenience. With this all-in-one solution you can easily achieve your educational goals.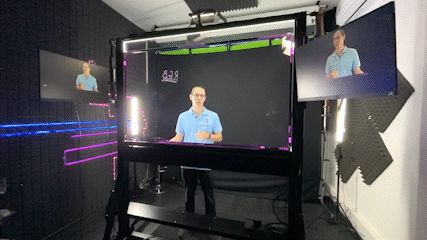 Our technology is used by leading universities, including MIREA, MPEI, Higher School of Economics, RANEPA, PRUE, Plekhanov, MISiS, Synergy University, and more for creating learning content. Our studio is also included in the mandatory list for the AVTC.
The system is also successful with commercial structures, such as EdCrunch, SkyEng, Channel One, Synergy, Quantorium, Nexign, and more. By using our solutions, you'll be able to save time and money.
HOW IT WORKS?
The lightboard (also transparent/glass whiteboard) video studio is a special type of video recording studio that has a glass panel (ultra-transparent tempered glass) illuminated from the inside by LED lamps. The glass panel serves as a writing surface that the presenter can use to draw or write with neon markers. The result is a very entertaining and interactive video where the presenter can draw diagrams, write formulas, or display other visual aids while maintaining visual contact with the camera.

The studio also includes professional equipment: lighting, cameras, teleprompter, microphones, monitors, computer and other accessories.

An important part of the studio is the software that allows you to use a glass whiteboard as a touchpad.

Thanks to the software you can:
- show screencast, websites, maps, screenshots;
- display presentation and interact with it, flip through slides with presenter or gestures;
- drawing and writing with a touch screen.
This setup is a great solution for those who work at home or travel for work. With table glass board.
Mobile studio is a great solution for those who work at home or travel for work.
​
This studio does not require any preparation of the room. It only takes 10-15 minutes to prepare and start recording your material or going live.
To install a studio requires from 25 m2.
​
Thanks to the larger diagonal, more content is placed in the frame. For this configuration, technical support and warranty are longer than for the Mini Studio and Mobile Studio configurations.

This setup for rooms with small area. For recording FullHD video
*The contract price is valid with 50% prepayment. If the purchase takes place through a tender on a trading (electronic) platform, there is a post-payment, then the price may increase.
You can also rent a studio
THE RENTAL PRICE INCLUDES:
Shooting
in FULL HD
A professional camera will provide a high-quality image in the video
Transparent
board
Ability to write/draw on the Board with a sensor or bright markers.
To interact with elements of the presentation, with graphs and gifs in real time.
Now you will not forget important words. Record videos based on prepared text.
You can immediately view the finished material on your computer and post it on your own resources.
The sound system will provide high quality sound.
3 softboxes and front LED speaker illumination.
Background to choose from
Premium black, dark blue, white, gray, chromakey.
Using a lightboard studio to create learning content can be an effective and engaging way to present complex ideas and concepts. Here's a general guide on how to use a lightboard studio for creating learning:
Plan and script your content: Before you start recording, plan out your content and write a script that you can follow during the recording. This will help you stay organized and ensure that you cover all the important points.

Make sure the lightboard is set up properly and that the lighting is adjusted to provide an even, well-lit surface. You should also test the audio and video equipment to ensure that they are working correctly.

Record your content: When you're ready to start recording, stand behind the transparent whiteboard and look directly at the camera. Use a marker to write on the lightboard as you explain your ideas, concepts, and examples. The software will help you insert presentations, videos, pictures and screenshots in real time. You don't need to add this on video editing.

Edit your video: Once you've finished recording, you can edit your video to remove any mistakes or unwanted sections.

Publish and share your video: When you're happy with the final result, you can publish and share your video with your students or audience. You can upload it to a learning management system, a video hosting platform, or share it directly through social media or email.
By using a studio to create learning content, you can provide your audience with a more interactive and engaging experience that can help them better understand and remember the material you're presenting.